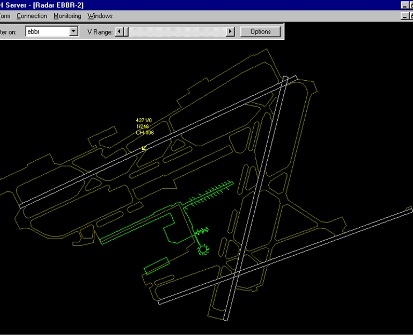 Radarscope controlling the ground traffic on Brussels-National
For the cockpit builder
The CH COM module can be connected to Microsoft Flight Simulator and extracts from them the data such as the position of the plane, parameters of flight, parameters of engines, and much other information. This data is sent towards the serial port of the computer. They can then be retrieved by another computer.
A little programming would make it possible for a second computer to post this data in specific instruments, such as Multi Function Displays or Flight Management Sytems.
Another screen shows the planes in a screen of the type Precision Approach Radar, with indications of the approach lines.
The CH Server module lays out, moreover, the following functionalities: to modify the weather conditions, to modify the position of the plane or its parameters of flight, to generate various breakdowns, …
It is possible to connect several CH Client module (planes) together and several CH Server modules (radar).
All information of the radarscopes are read from an Ms Access database. The CH Data module makes it possible for the user to add, publish or erase data in the Ms Access database.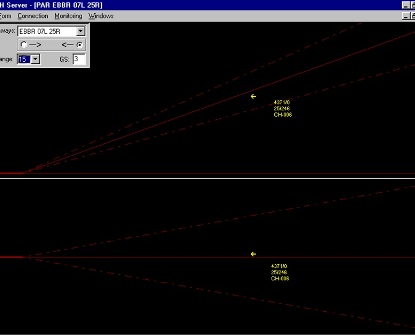 Precision Approach Radar with a plane in final